Macromolecular Theory and Simulations
Recently Published Issues
Best of Macromolecular Journals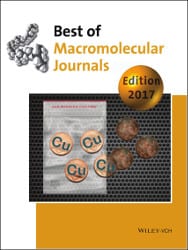 Best of Macros 2017 is now online. Click here to read about the selected articles and their authors.
Recently Published Articles
You have full text access to this OnlineOpen article

Acrylate Network Formation by Free-Radical Polymerization Modeled Using Random Graphs

Verena Schamboeck, Ivan Kryven and Pieter D. Iedema

Version of Record online: 18 SEP 2017 | DOI: 10.1002/mats.201700047

The evolving topology of a diacrylate polymer network driven by a free radical polymerization is modeled by combining the monomer population balance and the random graph approach. The molecular weight distribution and gel fractions for different species are discussed, and an analytic criterion for the transition into the gel regime is presented.

Simulating Light Scattering Behavior of Branched Molecules

Jacques C. J. F. Tacx and Piet D. Iedema

Version of Record online: 15 SEP 2017 | DOI: 10.1002/mats.201700058

Characterization of polymer with long chain branches by molecular weight and mean square radius of gyration using multi-angle light scattering is improved by modeling. Predicting scattering function P−1(θ) from branching was previously applied to simple combs or stars. Branching topology computed from kinetics enables calculating P−1(θ) and from intramolecular distances. Terminally branched molecules and low-density Polyethylene topologies show marked differences.

Copolymerization of Ethylene with 1,9-Decadiene: Part II—Prediction of Molecular Weight Distributions

Amanda L. T. Brandão, André L. Alberton, José Carlos Pinto and João B. P. Soares

Version of Record online: 14 AUG 2017 | DOI: 10.1002/mats.201700040

Adaptive orthogonal collocation and Monte Carlo methods are used to compute molecular weight distributions (MWDs) of ethylene/1,9-decadiene copoly­mers produced with constrained geometry catalysts. Model predictions are compared to experimental MWDs, showing that rates of macromonomer reincorporation in the growing chain decay with the macromonomer radius of gyration. Both proposed models fit equally well available MWDs.

Visualization of Bivariate Sequence Length–Chain Length Distribution in Free Radical Copolymerization

Mohammad Reza Saeb, Yousef Mohammadi, Hadi Rastin, Tayebeh Sadat Kermaniyan and Alexander Penlidis

Version of Record online: 1 AUG 2017 | DOI: 10.1002/mats.201700041

Bivariate dynamic sequence length conversion and end-of-batch sequence length–chain length distributions of free radical copolymerization under various monomer reactivity ratios and feed compositions are visualized by kinetic Monte Carlo simulation.

Continuous Thermodynamic Integration in Field-Theoretic Simulations of Structured Polymers

Russell K. W. Spencer, Bart Vorselaars and Mark W. Matsen

Version of Record online: 26 JUL 2017 | DOI: 10.1002/mats.201700036

Continuous thermodynamic integration is used to determine equilibrium behavior in copolymer melts, with speed and accuracy that is unprecedented in Monte Carlo field-theoretic simulations. Integrating from an Einstein crystal reference state yields absolute free energies, making this method extensible to order–order transitions. Equilibrium properties show negligible finite-size effects; however, uncertainties therein increase with system size, perhaps making small systems preferable for simulations.