Macromolecular Bioscience
Recently Published Issues
Best of Macromolecular Journals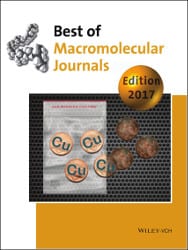 Best of Macros 2017 is now online. Click here to read about the selected articles and their authors.
Recently Published Articles
You have full text access to this OnlineOpen article

Chemoenzymatic Synthesis of Polypeptides for Use as Functional and Structural Materials

Kousuke Tsuchiya and Keiji Numata

Version of Record online: 19 JUL 2017 | DOI: 10.1002/mabi.201700177

Chemoenzymatic polymerization using proteases is a facile, environmentally benign, readily scalable, and atom-economical synthetic method for the development of functional polypeptide materials. In this review, recent progress in chemoenzymatic polypeptide synthesis with conventional procedures is summarized to explore the feasibility of its application to the production of functional and structural materials inspired by natural proteins.

In Vitro and In Vivo Characterization of Biodegradable Reactive Isocyanate-Terminated Three-Armed- and Hyperbranched Block Copolymeric Tissue Adhesives

Agnieszka I. Bochyńska, Gerjon Hannink, Jan J. Rongen, Dirk W. Grijpma and Pieter Buma

Version of Record online: 17 JUL 2017 | DOI: 10.1002/mabi.201700125

This study evaluates physicochemical and adhesive properties, degradation in vitro and in vivo, and the tissue reaction after subcutaneous injection in rats of the novel biodegradable three-armed- and hyperbranched block copolymeric adhesives. The results show sufficient adhesive strength to meniscus tissue (66–88 kPa), promising mechanical tensile properties and degradation profiles, and only mild inflammatory reaction.

Simple Radical Polymerization of Poly(Alginate-Graft-N-Isopropylacrylamide) Injectable Thermoresponsive Hydrogel with the Potential for Localized and Sustained Delivery of Stem Cells and Bioactive Molecules

Sreekanth Pentlavalli, Philip Chambers, Binulal N. Sathy, Michelle O'Doherty, Marine Chalanqui, Daniel J. Kelly, Tammy Haut-Donahue, Helen O. McCarthy and Nicholas J. Dunne

Version of Record online: 17 JUL 2017 | DOI: 10.1002/mabi.201700118

Free radical synthesis of injectable, biocompatible, and biodegradable thermoresponsive hydrogel that offers tailored viscoelastic properties is investigated. Hydrogel provided enables cell encapsulation without affecting differentiation capability. Technology offers a versatile and improved platform for drug delivery and bone tissue engineering applications.

Codelivery for Paclitaxel and Bcl-2 Conversion Gene by PHB-PDMAEMA Amphiphilic Cationic Copolymer for Effective Drug Resistant Cancer Therapy

Xiaoyuan Wang, Sing Shy Liow, Qiaoqiong Wu, Chuang Li, Cally Owh, Zibiao Li, Xian Jun Loh and Yun-Long Wu

Version of Record online: 17 JUL 2017 | DOI: 10.1002/mabi.201700186

A series of amphiphilic cationic poly[(R)-3-hydroxybutyrate]-b-poly(2-(dimethylamino)ethyl methacrylate) copolymers are designed as nonviral gene carrier with cationic micelle formation ability for hydrophobic drug encapsulation and enhanced stability. Furthermore, they are selected to codeliver chemotherapeutic paclitaxel and Bcl-2 conversion Nur77 gene in drug resistant HepG2/Bcl-2 cancer cells, which lead to increased Nur77 protein expression in intracellular mitochondria and drug resistant cancer cell death.

Comprehensive Examination of Mechanical and Diffusional Effects on Cell Behavior Using a Decoupled 3D Hydrogel System

Suntae Kim, Sung Bo Sim, Kangseok Lee and Chaenyung Cha

Version of Record online: 10 JUL 2017 | DOI: 10.1002/mabi.201700162

3D hydrogel-based cell culture system with decoupled mechanical and diffusional properties is developed by using a hydrophilic polymeric crosslinker with tunable number of reactive functional groups. This polymeric crosslinker allows for the control of mechanical properties without affecting diffusional properties of the hydrogel.