New Directions for Student Leadership
Edited by: Susan R. Komives, Editor and Kathy L. Guthrie, Associate Editor
Online ISSN: 2373-3357
Recently Published Issues
Jossey-Bass launches New Directions for Student Leadership
Jossey-Bass, A Wiley Brand, publisher books, journals, and services in higher and adult education and student and personal leadership development has launched the New Directions for Student Leadership Series. This series will explore dimensions of the development of leadership in high school youth and college students to aid leadership educators who design educational courses and programs for students.

The New Directions for Student Leadership will premier in 2015. The first issues and their editors include Innovative Learning for Leadership Development (Julie Owen, George Mason University), Developing Ethical Leaders (Arthur Schwartz, Widener University), Engagement and Leadership for Social and Political Change (Kathleen Knight Abowitz and Michael Evans, Miami University Ohio), and Student Leadership Development through Recreation and Athletics (Don Stenta, Ohio State University, and Cara McFadden, Elon University).

Series editors will be Susan R. Komives and Kathy L. Guthrie. Editor Komives is Professor Emerita from the University of Maryland, co-founder of the National Clearinghouse for Leadership Programs and co-author or co-editor of a dozen books including Exploring Leadership, Handbook for Student Leadership Development, and Leadership for a Better World. She is former co-principle investigator of the international Multi-Institutional Study of Leadership and the Leadership Identity Development model. She is the 2013 recipient of the Lifetime Achievement Award from ACPA: College Student Educator's International. Associate Editor Guthrie is Associate Professor in Higher Education at Florida State University and coordinator of the Undergraduate Certificate in Leadership Studies She has co-edited a New Directions in Student Services sourcebook titled "Developing Undergraduate Student Leadership Capacity" and recently co-authored "Cultivating Leader Identity and Capacity in Students from Diverse Backgrounds." Additionally, Guthrie serves on the editorial board for Journal of Leadership Education, Journal of College and Character, and Journal of Student Affairs Research and Practice.

Komives and Guthrie observe "the world today needs more and better leaders from all contexts able to work together on messy problems. We feel this New Directions series will provide current and relevant information for educators and administrators working with students of all ages to develop their leadership capacity and leader identity." They have planned issues and welcome proposals on timely topics that will broaden and deepen current practices in leadership education.
Jossey-Bass publishes 7 New Directions series including New Directions for Higher Education and New Directions for Student Services. These quarterly publications are found in libraries and available for individual subscription.

New Directions for Youth and Development Online
With the publication of our first issue of 2015, New Directions for Youth Development is now New Directions for Student Leadership. All previously published volumes of New Directions for Youth Development are still online and available to licensed users at the journal's original homepage of wileyonlinelibrary.com/journal/yd. We encourage you to bookmark this link for easy access to the many years of content in youth development and youth mentoring.
Recommended: The Student Leadership Challenge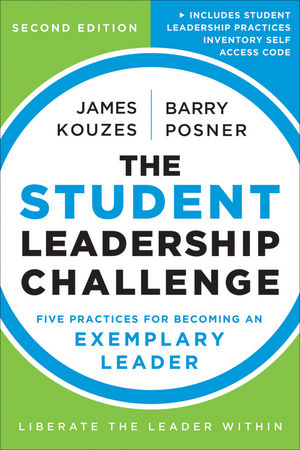 The Student Leadership Challenge: Five Practices for Becoming an Exemplary Leader, 2nd Edition
James M. Kouzes, Barry Z. Posner
ISBN: 978-1-118-39007-8
304 pages
February 2014, Jossey-Bass