Classical Studies
The Encyclopedia of Ancient History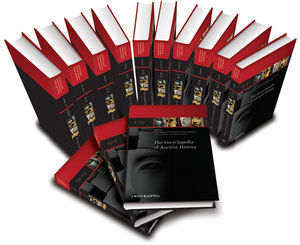 The Encyclopedia of Ancient History has just published online! Browse sample entries and consider recommending it to your librarian.
News
Call for Papers
The Bulletin of the Institute of Classical Studies welcomes proposals for new books in its Supplements series. For more information, please go here.
About the Journal
The Bulletin of the Institute of Classical Studies (BICS) publishes world-wide research in the whole range of Classical Studies. As well as established international scholars, BICS has always sought contributions by younger scholars. The journal is published annually in two issues, providing essential reading for the Classics community world-wide.
BICS is published in partnership with The Institute of Classical Studies, a national and international research institute in the languages, literature, history, art, archaeology and philosophy of the ancient Greek and Roman worlds. It is a member Institute of the University of London's School of Advanced Study, which combines the advantages of a graduate school with those of a centre for postdoctoral research and scholarship in many aspects of the Humanities.
Explore Classical Studies and Ancient History with Blackwell Reference Online
Blackwell Reference Online is a vast online library giving instant access to the most authoritative and up-to-date scholarship across the social sciences. With more than 425 reference volumes available, and dozens more added each year, it is the largest social science and humanities reference collection available online and includes:
The critically-acclaimed Blackwell Companions and Handbooks
Valuable reference materials such as dictionaries, encyclopedias and concise companions.
With unbeatable functionality, undergraduate and graduate students, lecturers, and researchers will find Blackwell Reference Online an invaluable learning and teaching resource.
Blackwell Reference Online includes the following essential reference works in classics and ancient history:
A Companion to Ancient Egypt edited by Alan B. Lloyd
A Companion to Ancient History edited by Andrew Erskine
A Companion to Archaic Greece edited by Kurt A. Raaflaub and Hans van Wees
A Companion to Aristotle edited by Georgios Anagnostopoulos
A Companion to Byzantium edited by Liz James
A Companion to Catullus edited by Marilyn B. Skinner
...and dozens more!