Geriatric Medicine
Discover New Research
Content Alerts
Receive alerts of the latest research in your field as soon as it is published. Select journal titles and click on "Get email alerts". Alerts can be set to daily, weekly, or monthly.
Join our Geriatrics email list
Sign up to receive Geriatrics related information, including e-newsletters, new book information, and hot articles. Join our email list by selecting "Medicine, Nursing & Dentistry" and then "Geriatric Medicine" on the next page
Geriatric Program Development
The papers in this virtual issue of the Journal of the American Geriatrics Society focus on the aging population and the development of geriatrics training programs from countries around the globe, including China, Europe, Singapore, Canada and the United States.
Click the image below for complimentary access.
Anywhere Article Arrives
Try the Anywhere Article version of your journal articles today!

Until now, options for downloading and viewing journal research have often been restricted to flat HTML or PDF formats. Wiley's new enhanced HTML offers a highly interactive and portable alternative. It offers 3 key enhancements over viewing the article as a PDF:

Readability – A streamlined layout and clean design without superfluous information to enable the reader to scan the page for the most important data.
Functionality – An interactive sidebar that offers easy access to citations without leaving the context of each reference. Similarly, the figure viewer allows readers to browse an articles full set of figures and quickly navigate directly to each one in context.
Mobility – The responsive HTML article will adapt to any device, desktop, tablet or mobile – to give the optimal reading experience, wherever the reader is.

Why not try it for yourself? Find an article of interest in one of our journals, and click the "Enhanced Article (HTML)" link you see under each eligible article. After you have tried out the new format for yourself, click the "Enhanced Article Feedback" link, and let us know what you think.
Book Spotlight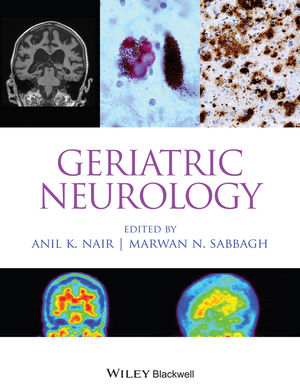 Comprehensive in scope but with a practical focus for effective patient care, Geriatric Neurology, by Anil K Nair and Marwan N. Sabbagh, provides top-of-class guidance for the management of elderly patients with neurological disorders.