Clinical Psychology & Psychotherapy

Edited By: Paul Emmelkamp
Impact factor (2022):
3.6
Journal Citation Reports (Clarivate, 2023):
42/131 (Psychology, Clinical (Social Science))
© John Wiley & Sons Ltd
Journal list menu
Clinical Psychology & Psychotherapy is an international journal that aims to keep clinical psychologists and psychotherapists up to date with new developments in clinical psychology and related mental health fields. The journal provides a forum for practitioners to present expertise and innovations to a wider audience, and for researchers to address large audiences with clinically relevant issues and valid research. Our primary focus is studies of clinical populations so we do not normally accept student-based studies.
On the Cover
Skip slideshow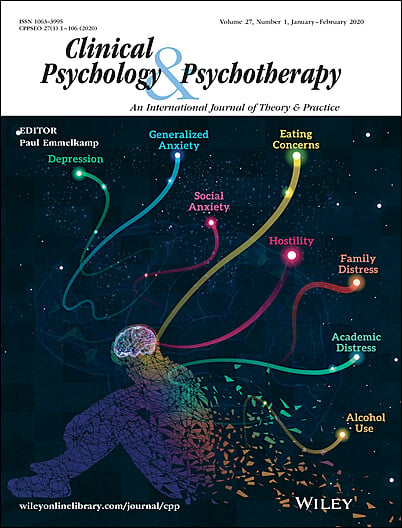 The cover image is based on the Case Report
Development of the Counseling Center Assessment of Psychological Symptoms-Japanese Version: Pilot Study
by Ryo Horita, Benjamin Locke, Mayumi Yamamoto et al.,
https://doi.org/10.1002/cpp.2412
.
more >
Articles
The following is a list of the most cited articles based on citations published in the last three years, according to CrossRef.
More articles