Addiction

Editor-in-Chief: John Marsden
Impact factor (2022):
6.0
Journal Citation Reports (Clarivate, 2023):
36/156 (Psychiatry (Science))
30/144 (Psychiatry (Social Science))
2/21 (Substance Abuse (Science))
3/38 (Substance Abuse (Social Science))
© Society for the Study of Addiction
Journal list menu
About this journal
Addiction publishes peer-reviewed research reports on pharmalogical and behavioural addictions, bringing together research conducted within many different disciplines. The publication is an official journal of the Society for the Study of Addiction, and has been in publication since 1884.



Reasons to Publish with Us:
Publish in the top Journal in Addiction Science
Get your paper circulated via 10,000+ global institutions & to all SSA members
Option to expand your reach through Open Access publishing
Early View publication ahead of print
Author Services include article tracking & PowerPoint downloads of all figures
Easy online submission process via http://mc.manuscriptcentral.com/addiction
Fully indexed in Medline
Announcement
Addiction is looking to add to its pool of Associate Editors. Find more details here, or to apply please send your CV together with a covering letter to Editor-in-Chief John Marsden c/o [email protected]. The closing date for applications is 30 September 2023.

Featured
Skip slideshow
Call for Papers: Special Issue on disposable e-cigarettes
We are issuing an open call for submissions to a special issue in Addiction. Please direct any general enquiries to Molly Jarvis, Editorial Manager and Commissioning Editor – [email protected]
Deadline for submissions: 31 December 2023
Tune in each month to listen to highlights from the latest issue and interviews with selected authors.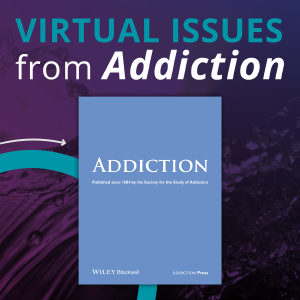 Read the latest online collections from Addiction:
Access the complete list of online collections and themed virtual issues
here
.