Alimentary Pharmacology & Therapeutics

Edited By: C. W. Howden, R. Loomba, G. M. Dusheiko, A. C. Ford, R. B. Gearry, P. R. Gibson, G. M. Hirschfield, G. L-H. Wong, C. H. Seow, S. Subramanian, V. W-S. Wong and S. C. Shah
© John Wiley & Sons Ltd
Journal list menu
Alimentary Pharmacology & Therapeutics is a global pharmacology journal concerned with the effects of drugs on the human gastrointestinal and hepato-biliary systems, publishing a diverse range of topics in the space often with immediate clinical impact to our readership.
We are interested in therapies and diagnostics, including all aspects of translation from bench to bedside and clinical trials.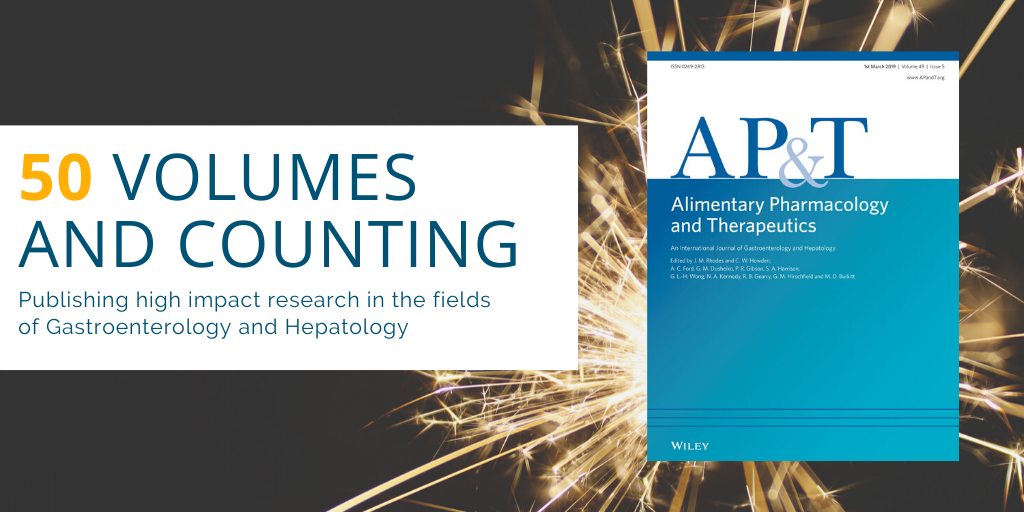 Thirteen good reasons why authors prefer AP&T
✮2022 Impact Factor is 7.633, ranking AP&T 17/93 for journals in Gastroenterology & Hepatology.
✮Quick decisions: Submission to first decision in 12 days on average in 2022.
✮FREE submission.
✮FREE colour figures.
✮No overall word count limit for original articles.
✮Fast publication: only 7 weeks from acceptance to publication in an online issue, with its final and full citation.
✮Possible Transfer Option to GastroHep if paper rejected by AP&T.
✮Follow @APandT for daily links to the latest articles.
✮Google Scholar: AP&T now ranks at number 11 in Google Scholar's list of top publications in Gastroenterology & Hepatology.
✮AP&T's 2021 SCImago SJR is 2.786, ranking it 8/157 in Gastroenterology and 9/74 in Hepatology.
✮FREE PDF off-prints for all authors.
✮Open Access publishing: after full peer-review, authors can choose to publish open access.
✮'Early View': The final corrected proofs of each article are published 16-24 days after acceptance, and listed by PubMed only days later.
Most read articles
AP&T Podcasts
Articles
The following is a list of the most cited articles based on citations published in the last three years, according to CrossRef.
More articles