Clinical Endocrinology

Edited By: A. Rees and M. Druce
Impact factor (2022):
3.2
Journal Citation Reports (Clarivate, 2023):
89/145 (Endocrinology & Metabolism (Science))
© John Wiley & Sons Ltd
Journal list menu
Clinical Endocrinology is a journal publishing papers dealing with the clinical aspects of endocrinology and molecular endocrinology. We feature reviews, original papers, commentaries, correspondence and clinical questions, providing essential reading for practicing clinicians, scientists and researchers, and laboratory technicians.
On the Cover
Skip slideshow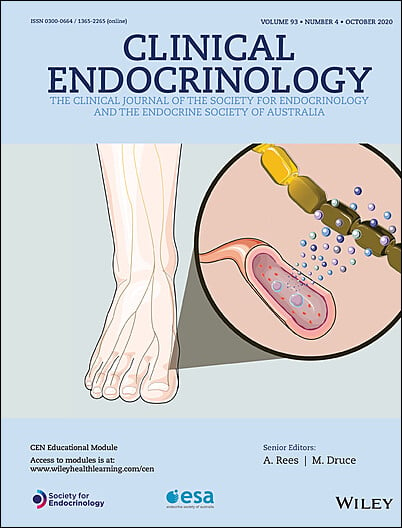 The cover image is based on the Original Article
Increased levels of inflammatory factors are associated with severity of polyneuropathy in type 1 diabetes
by Tina Okdahl et al.,
https://doi.org/10.1111/cen.14261
.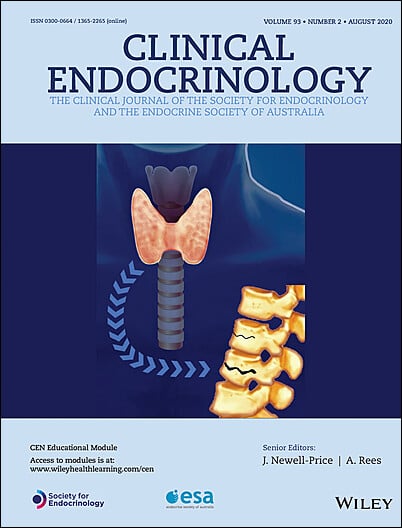 The cover image is based on the Original Article
Graves' disease and vertebral fracture: possible pathogenic link in postmenopausalwomen
by Kai Takedani, Masakazu Notsu et al.,
https://doi.org/10.1111/cen.14208
.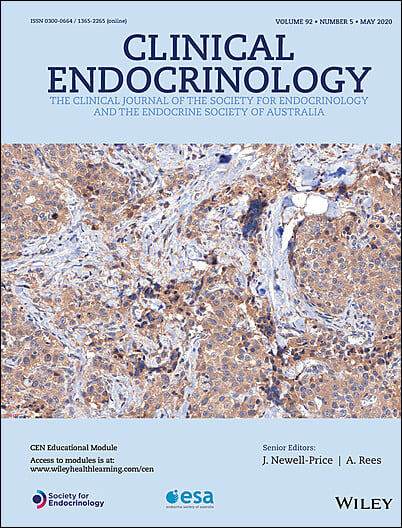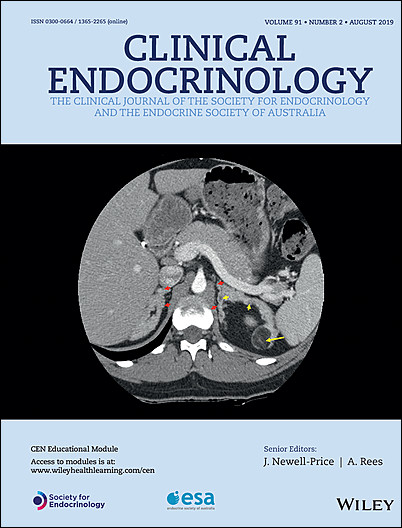 The cover image is based on the Original Article
Adrenal morphology and associated comorbidities in congenital adrenal hyperplasia
by Diala El-Maouche et al., DOI:
10.1111/cen.13996
.
more >
Articles
The following is a list of the most cited articles based on citations published in the last three years, according to CrossRef.
More articles
Looking for a home for your paper?
Submission to first decision in an average of just 14 days!
High international readership: more than 540,000 full text downloads in 2020
2019 Impact Factor: 3.380

Accepted Articles - Peer reviewed, accepted articles are published online as and when they are ready, prior to inclusion in an issue and before copy-editing
Five of the best things you can do as an author
1. Create web-friendly text – Your article will be published on Wiley Online Library, one of the most viewed websites in the world. Optimizing your article for search engines will greatly increase its chance of being viewed and/or cited in another work. The crucial areas for optimization are your article's title and abstract, which are freely available to all online.
a. Construct a clear, descriptive title - In search engine terms, this is the most interesting element. Search engines assume the title contains all of the important words that define the topic of the piece, and thus weight most heavily words appearing in the title. Think of three or four different search terms that readers are likely to use when looking for articles on the same topic as yours, and help them by constructing your title to include those terms. See our Search Engine Optimization (SEO) page for some examples.
b. Reiterate key phrases - The next most important field is the text of the abstract itself. You should reiterate the key words or phrases from the title within the abstract itself, use known phrases from your field to connect with other researchers interested in this topic. There is an example of an abstract which is well-optimized on our Author Services website.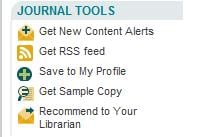 2. Register for our e-alerting services which will notify you when your article is published and when it has been cited. Simply:
a.Visit your journal's homepage: https://onlinelibrary.wiley.com/journal/cen
b. Log-in, or register
c. Click on Get New Content Alerts in the JOURNAL TOOLS menu (top left):
d. Follow the simple on-screen instructions.
3. Sign up to our Author Services site to nominate colleagues to receive free access to your article when it's published.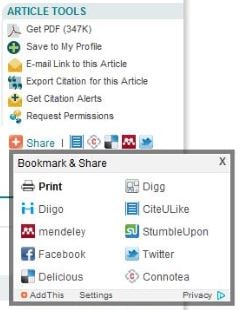 4. Bookmark & Share – registering your article on reference manager sites will enable you to tap into academic social networks that help others discover both you and your research. Simply click on your preferred link from the right hand menu next to your article on Wiley Online Library. Add a link to recommended reading lists, your website and email footer, contribute to online blogs, listservs and discussion forums. See the "How to Cite" link from your paper's abstract page online).
5. Treat yourself - Authors, Editors and Contributors can receive a 25% discount on all Wiley books. Just register on the Wiley Author Discount page.