Anatomia, Histologia, Embryologia

Edited By: Editor-in-Chief: Fred Sinowatz; Associate Editors: Francesco Abbate, Pieter Cornillie, Brooke Dubansky, William Pérez, Catrin Rutland & Johannes Seeger
Impact factor (2022):
0.9
Journal Citation Reports (Clarivate, 2023):
18/20 (Anatomy & Morphology (Science))
95/143 (Veterinary Sciences (Science))
© Wiley-VCH GmbH
Journal list menu
About This Journal
Anatomia, Histologia, Embryologia is a premier international forum for the latest research on descriptive, applied and clinical anatomy, histology, embryology, and related fields. Special emphasis is placed on the links between animal morphology and veterinary and experimental medicine, consequently studies on clinically relevant species will be given priority. The editors welcome papers on medical imaging and anatomical techniques. The journal is of vital interest to clinicians, zoologists, obstetricians, and researchers working in biotechnology. Contributions include reviews, original research articles, short communications and book reviews.
---
---
On the Cover
Skip slideshow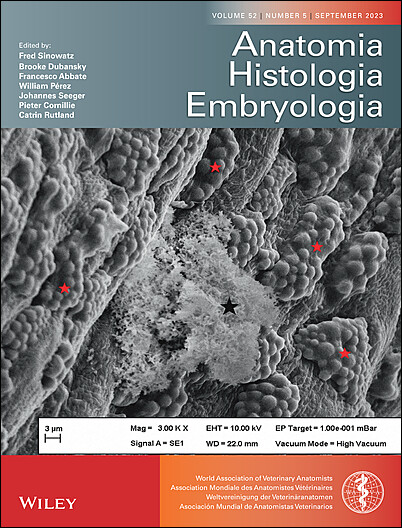 The cover image is based on the Original Article
Macroscopic and microscopic comparison of pecten oculi in different avian species
by Deniz Korkmaz et al.,
https://doi.org/10.1111/ahe.12927
.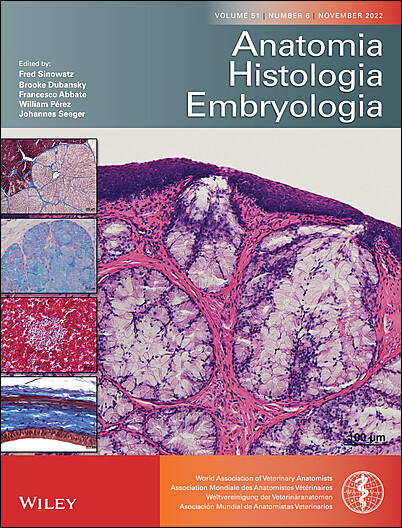 The cover image is based on the Original Article
Histological and histochemical characteristics of the oral, pharyngeal and accessory digestive organs in the water monitor lizard (Varanus salvator) from Thailand
by Nattawut Srichairat et al.,
https://doi.org/10.1111/ahe.12846
.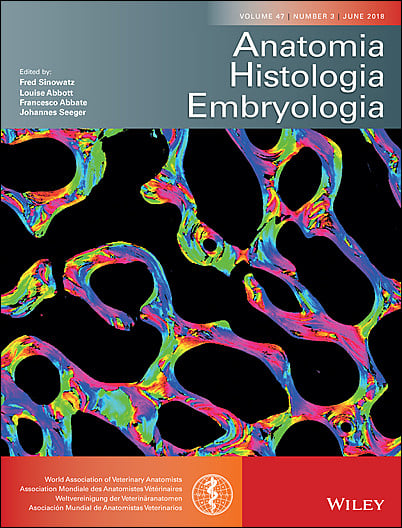 The cover image, by B. M. C. Gorissen et al., is based on the Original Article
Trabecular and subchondral bone development of the talus and distal tibia from foal to adult in the warmblood horse
, DOI:
10.1111/ahe.12341
.
more >
Articles
The following is a list of the most cited articles based on citations published in the last three years, according to CrossRef.
More articles