Orthodontics & Craniofacial Research

Edited By: Ambra Michelotti
Impact factor (2022):
3.1
Journal Citation Reports (Clarivate, 2023):
35/91 (Dentistry, Oral Surgery & Medicine (Science))
© John Wiley & Sons A/S. Published by John Wiley & Sons Ltd
Journal list menu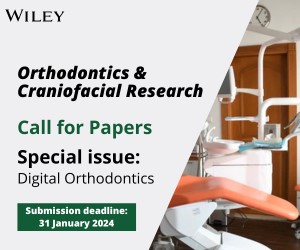 For the full details please click here.
Deadline: 31st January 2024
Please refer to the full author guidelines before submission as they contain information on article types and format, along with details on how to prepare your manuscript. It is essential to select the special issue title of "Digital Orthodontics" from the drop-down list when you submit the manuscript, here.
---
Why Publish Your Paper in Orthodontics & Craniofacial Research
Ranked #6/23 journals in Orthodontics by Scopus
Accepted Article publication - Accepted Articles are published on average within 5 days of acceptance in 2020
Fast review process – average 16 days from submission to final decision in 2020
Rapid publication time – average 28 days from acceptance for Early View publication in 2020
Readership in over 175 countries, with high readership in the United States, India, China, Brazil and Japan, and 99.54k full-text article downloads in 2020
We publish internationally – papers published from 110 different lead author institute countries


---
Announcement
It has come to our attention that an entity called "Gavin Publishers" has launched an open access journal under the name "Journal of Orthodontics and Craniofacial Research." Please note that this publication has no connection with the Wiley-owned journal (ISSN 1601-6343).
Nevertheless, Gavin Publishers is actively targeting Wiley contributors to submit material to their journal. Authors and contributors should be careful to submit articles only to the Wiley journal Orthodontics & Craniofacial Research at https://mc.manuscriptcentral.com/ocr. Authors who submit manuscripts to sites outside the official Wiley submission workflow are likely to lose both their money and their manuscript, which can then not be published in the official Wiley journal.
Please also refer to the Think Check Submit site at https://thinkchecksubmit.org/ for additional information on submitting articles to an appropriate journal for your research.
The editors and publishers at Wiley would also be interested to have you forward examples of spam if you have been targeted by Gavin Publishers.



---
The 2023 Orthodontics Research Group Growth and Development Research Award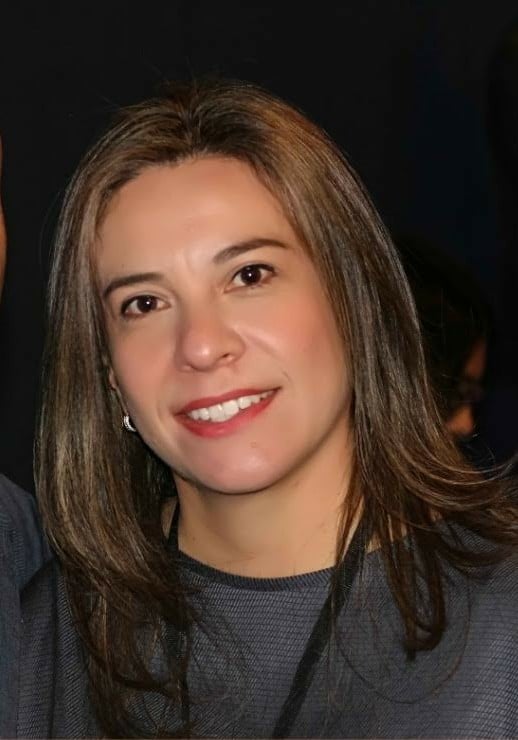 Congratulations to Sonia Victoria Guevara Pérez on her recent win of the 2023 Growth and Development Research Award in association with Orthodontics and Craniofacial Research and Wiley. This was awarded in recognition of presenting the winning research group project in the Orthodontics Research Group. This project was on Cervical Vertebral Maturation Stage Determination With Artificial Intelligence.
For more information about the Growth and Development Research Award please click here.
---
On the Cover
Articles
The following is a list of the most cited articles based on citations published in the last three years, according to CrossRef.
More articles