Journal list menu
About this Journal
The Journal of the World Aquaculture Society (JWAS) is an open access scientific journal devoted to the advancement of technological innovations and solutions to major issues facing the growth of global aquaculture. For more information about Open Access click here or visit the FAQ page.
---
Skip slideshow
Algal oil gives control of long-chain omega-3 levels in full-cycle production of Atlantic salmon, without detriment to zootechnical performance and sensory characteristics
Santigosa, E., Olsen, R. E., Madaro, A., Trichet, V. V., & Carr, I. (2023). Journal of the World Aquaculture Society, 54(4), 861–881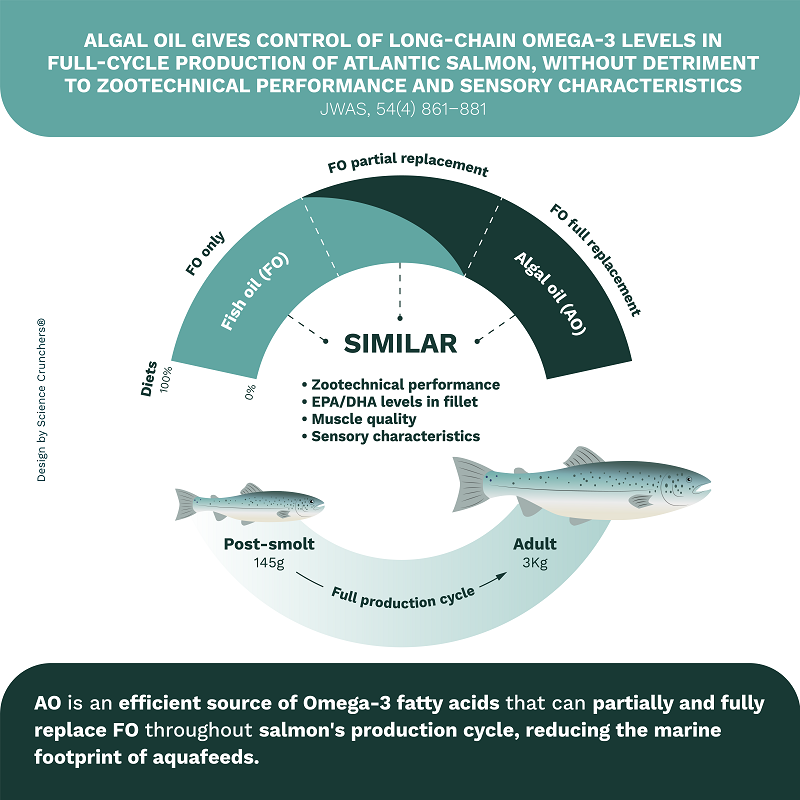 This study assessed the suitability of partial or full (100%) replacement of fish oil (FO) with microalgal oil (AO) in Atlantic salmon diets. This represents a novel approach as it is one of the first studies to follow fish through the entire production cycle from post-smolt (145 g) to a 3 kg harvest size. Three experimental trials were conducted consecutively and fish were fed a control diet containing FO as the main source of omega-3 LC-PUFA, with test diets containing graded levels of AO and other plant oils (rapeseed and soybean). No differences in zootechnical performance were found and results showed that AO replacement did not negatively affect growth, muscle quality, or EPA/DHA levels in fish fillets. A variety of sensory characteristics were also compared and raw salmon muscle from fish fed AO diets had favourable odor, taste, texture, appearance, or color. This study clearly demonstrated the suitability of AO as an effective alternative ingredient in salmon feeds and fully supports the idea that AO is a suitable FO replacement for salmon feeds and greater use of AO would reduce the marine footprint associated with aquafeeds.

For more papers from the Editor's Choice Awards: please click here.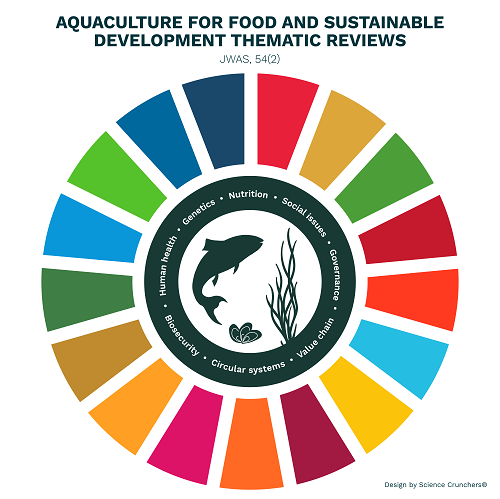 The Journal of the World Aquaculture Society is excited to highlight a series of thematic technical reviews that were developed with the leading author in each field following the Global Conference on Aquaculture Millennium +20 (GCA +20), which was held from September 22–25, 2021 in Shanghai, the People's Republic of China.


Recognizing that aquaculture is critically important to sustainable development and global food systems, the Food and Agriculture Organization of the United Nations (FAO) selected technical themes that these eight reviews present in this special issue. These themes and reviews support FAO's Blue Transformation Roadmap of providing adequate aquatic food for a growing world population.

The reviews focus on multiple key issues that are essential for aquaculture and its future progress. Details are provided on current and future trends, challenges, and opportunities, and these reviews lay the foundation for the support of a vision for sustainable aquaculture as outlined in the Shanghai Declaration on Aquaculture for Food and Sustainable Development. You can read this Special Issue here
Introducing our Executive Editor for JWAS
| | |
| --- | --- |
| The World Aquaculture Society and Wiley are delighted to introduce Dr Ken Cain as the Executive Editor for JWAS. Ken is a Distinguished Professor at the University of Idaho and teaches courses in Fish Health Management, Aquaculture, and Wild and Hatchery Fish Interactions. His research program focuses on a range of topics including characterization of the immune system in fish, aquaculture vaccine development, fish nutrition, diagnostic assay development, new methods for disease control, and development of aquaculture methods for new fish species. Ken has held several editorial roles and has been an active reviewer for the fish and aquaculture research community. | |
A review of influencing factors on a recirculating aquaculture system: Environmental conditions, feeding strategies, and disinfection methods
Li, H., Cui, Z., Cui, H., Bai, Y., Yin, Z., & Qu, K. (2023). Journal of the World Aquaculture Society, 54(3), 566–602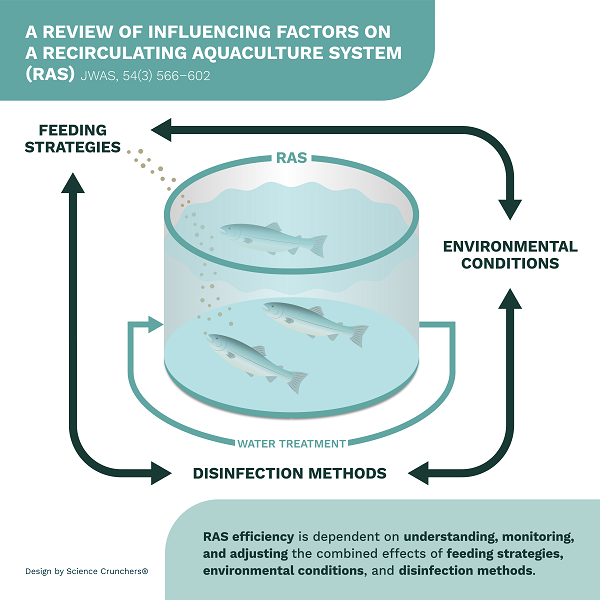 With advances in recirculating aquaculture system (RAS) technology, the authors of this review provide an overview of numerous elements associated with these systems, their importance, and their impact on RAS efficiency. It is clear that RAS has many advantages and possible benefits over other production strategies, but the requirements for efficient operation coupled with the need to balance critical parameters present large challenges. Fully understanding factors such as temperature, dissolved oxygen, pH, salinity, density, photoperiod, feed rates, and disinfection methods is essential. RAS will undoubtedly play an increasing role in the expansion of aquaculture into the future. However, RAS must be cost-effective and efficient for the production of high-quality aquaculture products at the scale needed to satisfy the many different markets.
To read more, and see our other Editor's Choice Awards papers, please click
here
.
Water quality, waste production, and off-flavor characterization in a depuration system stocked with market-size Atlantic salmon Salmo salar
by Davidson, J., Redman, N., Crouse, C., & Vinci, B. (2023). Journal of the World Aquaculture Society, 54(1), 96–112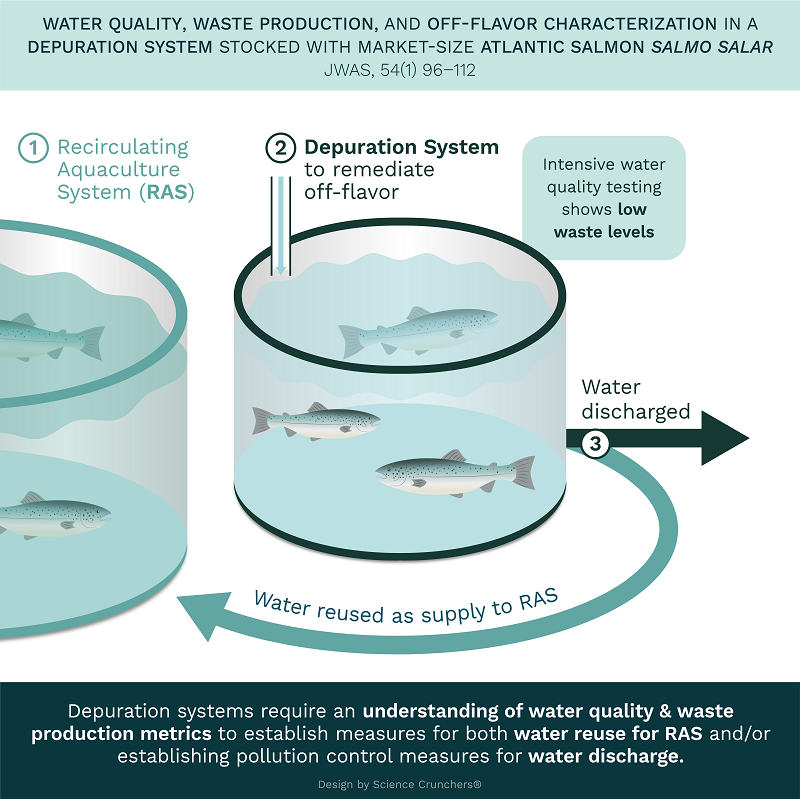 Many challenges come with land-based finfish aquaculture. This study looks at water quality changes during remediation of off-flavor that can accumulate in Atlantic salmon, Salmo salar, reared in recirculating aquaculture systems (RAS). To eliminate off-flavor from salmon flesh, depuration may be necessary. Therefore, the authors emphasize the need to understand water quality and waste production in the context of depuration, discharge requirements, or repurposing water back into the RAS. This study evaluated these parameters for 311 salmon ranging in size from 5–6 kg. These fish were reared to this size in a freshwater RAS and then moved to a depuration tank. Feed was withheld one day prior to transfer and fish remained off-feed for the 7 days of the study. It was found that within hours after stocking, levels of total suspended solids (TSS), total phosphorus (TP), and total ammonia nitrogen (TAN) increased sharply then declined.

To read more, and see our other Editor's Choice Awards papers, please click here.
Growth effects of lysine in compounded diets for American alligator, Alligator mississippiensis.
Reigh, R. C., & Williams, M. B. (2022). Journal of the World Aquaculture Society, 53(5), 995–1005.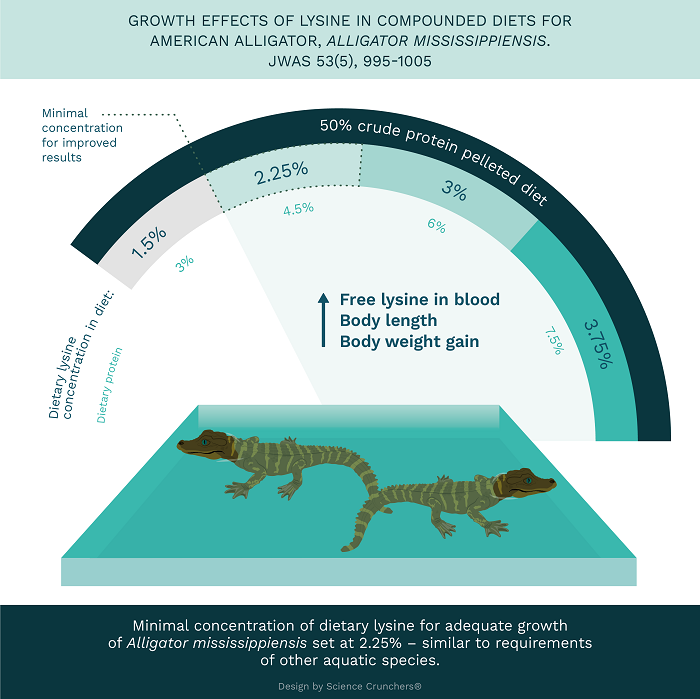 Alligator farming in the state of Louisiana is the second-largest aquaculture industry and a highly valuable animal-production enterprises for the state. Extruded feeds are currently available to the alligator industry but there is limited information on the nutritional requirements of captive-reared alligators. This study looks at the essential amino acid lysine and was designed to provide baseline data on lysine requirements of alligators. Therefore, hatchling alligators were fed pelleted diets containing graded levels of dietary lysine for 10 months. Using alligator body length, body weight, and free lysine in blood plasma the authors establish a first estimate of lysine concentration for alligator diets composed of practical feedstuffs. They found that a concentration of at least 2.25% dietary lysine, or about 4.5% of the protein in a 50% crude protein diet, provided adequate growth of the American alligator under the study conditions tested.

For more papers from the Editor's Choice Awards: please click here.
Articles
The following is a list of the most cited articles based on citations published in the last three years, according to CrossRef.
More articles