Nordic Journal of Botany

Edited By: Editors-in-Chief Sara Cousins, Torbjörn Tyler
Impact factor (2022):
0.9
Journal Citation Reports (Clarivate, 2023):
198/239 (Plant Sciences (Science))
© Nordic Society Oikos. Published by John Wiley & Sons Ltd
Journal list menu
Nordic Journal of Botany is an international journal publishing research on all aspects of plant and fungal ecology, evolution, conservation, biogeography and taxonomy. We welcome cross-disciplinary research such as plant-pollinator interactions, human-plant relations, and plant-ecosystem connections.
Our scope includes algae and bryophytes and all groups of fungi. We explore trending topics in plant sciences and publish research from both established experts and early-career researchers. Nordic Journal of Botany is owned by the Nordic Society Oikos.
Skip slideshow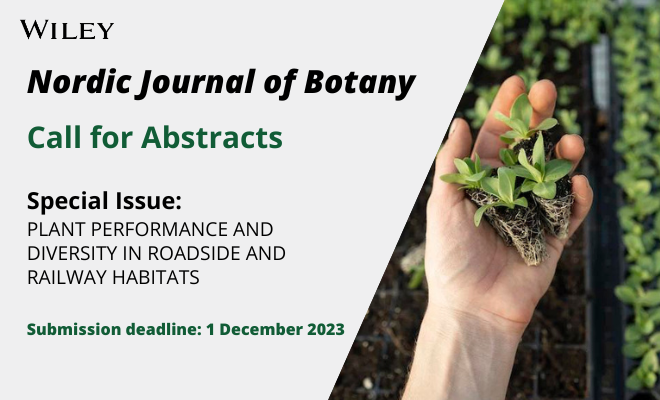 Global climate change is contributing to elevated sea levels at an estimated rate of almost 4 mm year-1 and more intense and frequent occurrences of extreme weather events (IPCC 2021), resulting in increased coastal erosion and flooding (Vousdoukas et al. 2020). This accelerating trend has profound effects on coastal and urban areas. Read more from the Editorial here.
Meet the Editors
Articles
The following is a list of the most cited articles based on citations published in the last three years, according to CrossRef.
More articles