Author Guidelines
For additional tools visit Author Resources - an enhanced suite of online tools for Wiley Online Library journal authors, featuring Article Tracking, E-mail Publication Alerts and Customized Research Tools.
Author Guidelines
General
JMS publishes original Research Articles, Accelerated Communications, Letters to the Editor and Special Features such as Perspectives, Tutorials, Historical, Commentary and Current Literature listings.
Manuscripts submitted for publication in JMS should follow the general format described below and must be original works by the authors. The manuscript must not have been, nor will be, submitted for publication elsewhere at any time during its consideration by JMS.
Note to NIH Grantees. Pursuant to NIH mandate, Wiley Blackwell will post the accepted version of contributions authored by NIH grant-holders to PubMedCentral upon acceptance. This accepted version will be made publicly available 12 months after publication. For further information, see NIH Mandate.
Manuscript Submission
All papers must be submitted via the online system. The Journal of Mass Spectrometry operates an online submission and peer review system that allows authors to submit articles online and track their progress via a web interface. Please read the remainder of these instructions to authors and then click http://mc.manuscriptcentral.com/JMS to navigate to the Journal of Mass Spectrometry online submission site.
IMPORTANT: Please check whether you already have an account in the system before trying to create a new one. If you have reviewed or authored for the journal in the past year it is likely that you will have had an account created.
File types. Preferred formats for the text and tables of your manuscript are .doc, .rtf, .ppt, .xls. LaTeX files may be submitted provided that an .eps or .pdf file and a Word .doc format is provided in addition to the source files. Figures may be provided in .tiff or .eps format. The Journal of Mass Spectrometry will not accept .pdfs as source files. Main document and Image files must be supplied in one of the preferred document formats.
INITIAL SUBMISSION
NON-LATEX USERS: Upload your manuscript files. At this stage, further source files do not need to be uploaded.
LATEX USERS: For reviewing purposes you should upload a single .pdf that you have generated from your source files. You must use the File Designation "Main Document" from the dropdown box.
REVISION SUBMISSION
NON-LATEX USERS: Editable source files must be uploaded at this stage. Tables must be on separate pages after the reference list, and not be incorporated into the main text. Figures should be uploaded as separate figure files.
LATEX USERS: When submitting your revision you must still upload a single .pdf that you have generated from your now revised source files. You must use the File Designation "Main Document" from the dropdown box. In addition you must upload your TeX source files. For all your source files you must use the File Designation "Supplemental Material not for review". Previous versions of uploaded documents must be deleted. If your manuscript is accepted for publication we will use the files you upload to typeset your article within a totally digital workflow.
Copyright and Permissions
If your paper is accepted, the author identified as the formal corresponding author for the paper will receive an email prompting them to login into Author Services; where via the Wiley Author Licensing Service (WALS) they will be able to complete the license agreement on behalf of all authors on the paper.
For authors signing the copyright transfer agreement
If the OnlineOpen option is not selected the corresponding author will be presented with the copyright transfer agreement (CTA) to sign. The terms and conditions of the CTA can be previewed in the samples associated with the Copyright FAQs below:
CTA Terms and Conditions http://authorservices.wiley.com/bauthor/faqs_copyright.asp
For authors choosing OnlineOpen
If the OnlineOpen option is selected the corresponding author will have a choice of the following Creative Commons License Open Access Agreements (OAA):
Creative Commons Attribution License OAA
Creative Commons Attribution Non-Commercial License OAA
Creative Commons Attribution Non-Commercial -NoDerivs License OAA
To preview the terms and conditions of these open access agreements please visit the Copyright FAQs hosted on Wiley Author Services http://authorservices.wiley.com/bauthor/faqs_copyright.asp and visit http://www.wileyopenaccess.com/details/content/12f25db4c87/Copyright--License.html.
If you select the OnlineOpen option and your research is funded by The Wellcome Trust and members of the Research Councils UK (RCUK) you will be given the opportunity to publish your article under a CC-BY license supporting you in complying with Wellcome Trust and Research Councils UK requirements. For more information on this policy and the Journal's compliant self-archiving policy please visit: http://www.wiley.com/go/funderstatement.
Accepted Articles
'Accepted Articles' have been accepted for publication and undergone full peer review but have not been through the copyediting, typesetting, pagination and proofreading process. Accepted Articles are published online a few days after final acceptance, appear in PDF format only (without the accompanying full-text HTML) and are given a Digital Object Identifier (DOI), which allows them to be cited and tracked. The DOI remains unique to a given article in perpetuity. More information about DOIs can be found online at http://www.doi.org/faq.html. Given that Accepted Articles are not considered to be final, please note that changes will be made to an article after Accepted Article online publication, which may lead to differences between this version and the Version of Record..
The Accepted Articles service has been designed to ensure the earliest possible circulation of research papers after acceptance.
Accepted articles will be indexed by PubMed; Therefore the submitting author must carefully check the names and affiliations of all authors provided in the cover page of the manuscript, as it will not be possible to alter these once a paper is made available online in Accepted Article format. Subsequently the final copyedited and proofed articles will appear either as Early View articles in a matter of weeks or in an issue on Wiley Online Library; the link to the article in PubMed will automatically be updated.
English Editing
Papers must be in English. Oxford English Dictionary or American spelling is acceptable, provided usage is consistent within the manuscript.
Manuscripts that are written in English that is ambiguous or incomprehensible, in the opinion of the Editor, will be returned to the authors with a request to resubmit once the language issues have been improved. This policy does not imply that all papers must be written in "perfect" English, whatever that may mean. Rather, the criterion will require that the intended meaning of the authors must be clearly understandable, i.e., not obscured by language problems, by referees who have agreed to review the paper.
Authors for whom English is a second language may choose to have their manuscript professionally edited before submission to improve the English. A list of independent suppliers of editing services can be found at http://www.blackwellpublishing.com/bauthor/english_language.asp. Japanese authors can also find a list of local English improvement services at http://www.wiley.co.jp/journals/editcontribute.html. All services are paid for and arranged by the author, and use of one of these services does not guarantee acceptance or preference for publication.
Presentation of papers
Manuscript style. Use a standard font of the 12-point type: Times, Helvetica, or Courier is preferred. It is not necessary to double-line space your manuscript.
Tables must be on separate pages after the reference list, and not be incorporated into the main text. Figures should be uploaded as separate figure files.
During the submission process you must enter
1) the full title
2) the short title of up to 70 characters
3) names and affiliations of all authors and
4) the full address, including email, telephone and fax of the author who is to check the proofs.

Include the name(s) of any sponsor(s) of the research contained in the paper, along with grant number(s).

Enter an abstract of no more than 250 words for all articles. Please see the guidance below on acceptable abstract writing for JMS.

Keywords. Authors should prepare no more than 5 keywords for their manuscript.
Rules for article formats
Application Notes – short articles reporting on innovative applications from a laboratory setting or technology. JMS recommends for conciseness that each Application Note is written in an accessible, easy-to-read style, less than 4 journal pages in length including illustrations (approx 3000 words including 4 illustrations) and contain less than 30 references together with an abstract of less than 100 words.
Accelerated Communication – regular research articles deemed by the editors to require urgent dissemination among the community. Accelerated communications receive priority refereeing and are fast- tracked into the next available issue.
Special Features – For guidance on the content and format of Special Features, please contact the Special Feature Editors, whose details can be found on the Editorial Board page.
Research Articles – There are no formal limits on the page extent for Research Articles. Please see the above sections for rules pertaining to format and presentation.
Letters – Letters are not to exceed 5 printed pages (~5000-6000 words) and must not contain more than 20 references. An abstract is not required. There are no formal limits on the number of figures but they must be accommodated within the maximum 5 page limit. A double column, half page figure is equivalent to ~600 words, a single column quarter page figure = ~250
Writing Abstracts
An abstract is a concise summary of the whole paper, not just the conclusions. The abstract should be no more than 300 words and convey the following:
1. An introduction to the work. This should be accessible by scientists in any field and express the necessity of the experiments executed
2. Some scientific detail regarding the background to the problem
3. A summary of the main result
4. The implications of the result
5. A broader perspective of the results, once again understandable across scientific disciplines
It is crucial that the abstract convey the importance and novelty of the work and be understandable without reference to the rest of the manuscript to a multidisciplinary audience. Abstracts should not contain any citation to other published works.
Reference Style
References should be cited in the text by superscript numbers and listed at the end of the paper in the order in which they appear in the text. All references must be complete and accurate. References should be listed in the following style:
Examples for Journals
[1] P.J. Weaver, A.M.-F. Laures, J-C. Wolff. Investigation of the advanced functionalities of a hybrid quadrupole orthogonal acceleration time-of-flight mass spectrometer. Rapid. Commun. Mass Spec. 2007, 21 , 2451.
Examples for Books
[2] K. Schmidt-Rohr, H.W. Spiess. Multidimensional Solid-State NMR and Polymers. Academic Press, London, 1994.
[3] V. Sklenar. in NMR Applications in Biopolymers, (Eds: J.W. Finley, S. J. Schmidt, A. S. Serianni), Plenum, New York, 1990, pp. 63-70.
Illustrations and ChemDraw Rules
Upload each figure as a separate file in either .tiff or .eps format, with the figure number and the top of the figure indicated. Compound figures e.g. 1a, b, c should be uploaded as one figure. Tints are not acceptable. Lettering must be of a reasonable size that would still be clearly legible upon reduction, and consistent within each figure and set of figures. Where a key to symbols is required, please include this in the artwork itself, not in the figure legend. All illustrations must be supplied at the correct resolution:
Black and white and colour photos - 300 dpi
Graphs, drawings, etc - 800 dpi preferred; 600 dpi minimum
Combinations of photos and drawings (black and white and colour) - 500 dpi
Tables should be part of the the main document and should be placed after the references. If the table is created in excel the file should be uploaded separately.
Chemical structures should be prepared in ChemDraw either 80mm (one column) or 175mm (two column) widths. However, the one-column format should be used whenever possible as this allows greater flexibility in the layout of the manuscript. Use this ChemDraw Download or use the following settings:
Drawing settings
Text settings
chain angle
120°
font
Ariel
bond spacing
18% of length
size
12 pt
fixed length
17 pt
bond width
2 pt
Preferences
line width
0.75 pt
units
points
margin width
2 pt
tolerances
5 pixels
hash spacing
2.6 pt
bold width
2.6 pt

Authors using different structural drawing programs should choose settings consistent with those above. Compound numbers should be bold, but not atom labels or captions.

Return to Top
Colour policy
Colour is free of charge for authors submitting the following article types:
Review
Tutorial
Perspective
Historical
Commentary
The cost of printing colour illustrations for Research Articles may be charged to the author however they may feature in colour on-line free of charge. For colour charge scales please contact Journals Production.
Citing EarlyView Articles
To include the DOI in a citation to an article, simply append it to the reference as in the following example:
P.J. Weaver, A.M.-F. Laures, J-C. Wolff. Investigation of the advanced functionalities of a hybrid quadrupole orthogonal acceleration time-of-flight mass spectrometer. Rapid. Commun. Mass Spec. 2007, DOI: 10.1002/RCM.21464.
To link to an article from the author's homepage, take the DOI (digital object identifier) and append it to "http://dx.doi.org/" as per following example:
DOI 10.1002/JMS.20941, becomes http://dx.doi.org/10.1002/JMS.20941.
Cover Artwork Opportunities
Cover Artwork Opportunities
Journal of Mass Spectrometry will feature a cover graphic for the purpose of highlighting an article featured within the issue. Authors wishing to explore this opportunity are advised to supply a suitable illustration for this purpose. The selection process for cover illustrations will be the determined by the Editors.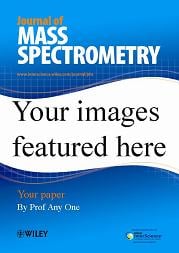 Please note that you must own the copyright to reproduce images, if you do not own the images then permission must be granted by the copyright holder.
Reproductions of the cover in print and electronic formats and additional copies of the journal featuring bespoke cover artwork may be obtained from the publisher. Please direct any enquiries to [email protected]
Further Information
For accepted manuscripts the publisher will supply proofs to the submitting author prior to publication. This stage is to be used only to correct errors that may have been introduced during the production process. Prompt return of the corrected proofs, preferably within two days of receipt, will minimise the risk of the paper being held over to a later issue.
Free access to the final PDF offprint or your article will be available via Author Services only. Please therefore sign up for Author Services if you would like to access your article PDF offprint and enjoy the many other benefits the service offers. There is no page charge to authors.
To purchase reprints in smaller quantities, please visit http://www3.interscience.wiley.com/aboutus/ppv-articleselect.html. Restrictions apply to the use of reprints – if you have a specific query, please contact [email protected]. Corresponding authors are invited to inform their co-authors of the reprint options available
Manuscript accepted for publication? If so, check out our suite of tools and services for authors and sign up for:
• Article Tracking
• E-mail Publication Alerts
• Personalization Tools
Guidelines for Cover Submissions
If you would like to send suggestions for artwork related to your manuscript to be considered to appear on the cover of the journal, please follow these general guidelines.
Video Abstracts
Bring your research to life by creating a video abstract for your article! Wiley partners with Research Square to offer a service of professionally produced video abstracts. Learn more about video abstracts at www.wileyauthors.com/videoabstracts and purchase one for your article at https://www.researchsquare.com/wiley/ or through your Author Services Dashboard. If you have any questions, please direct them to [email protected].