Journal list menu
Manuscript Transfer Guidelines
We believe that every scientific contribution matters; our priority is to find the most suitable home for its publication.
Our transfer network allows you to easily transfer your paper to another journal in the portfolio if your manuscript isn't accepted by your first-choice journal. There's no need to go through a new submission process, saving you time, effort, and increasing the chance of your work being published, faster.
When you submit your manuscript, it will be evaluated by an editor, and, potentially, external reviewers. They will check that the work fits within the journal's scope, and that it's of high enough quality and relevance to suit the requirements of the journal and its readership.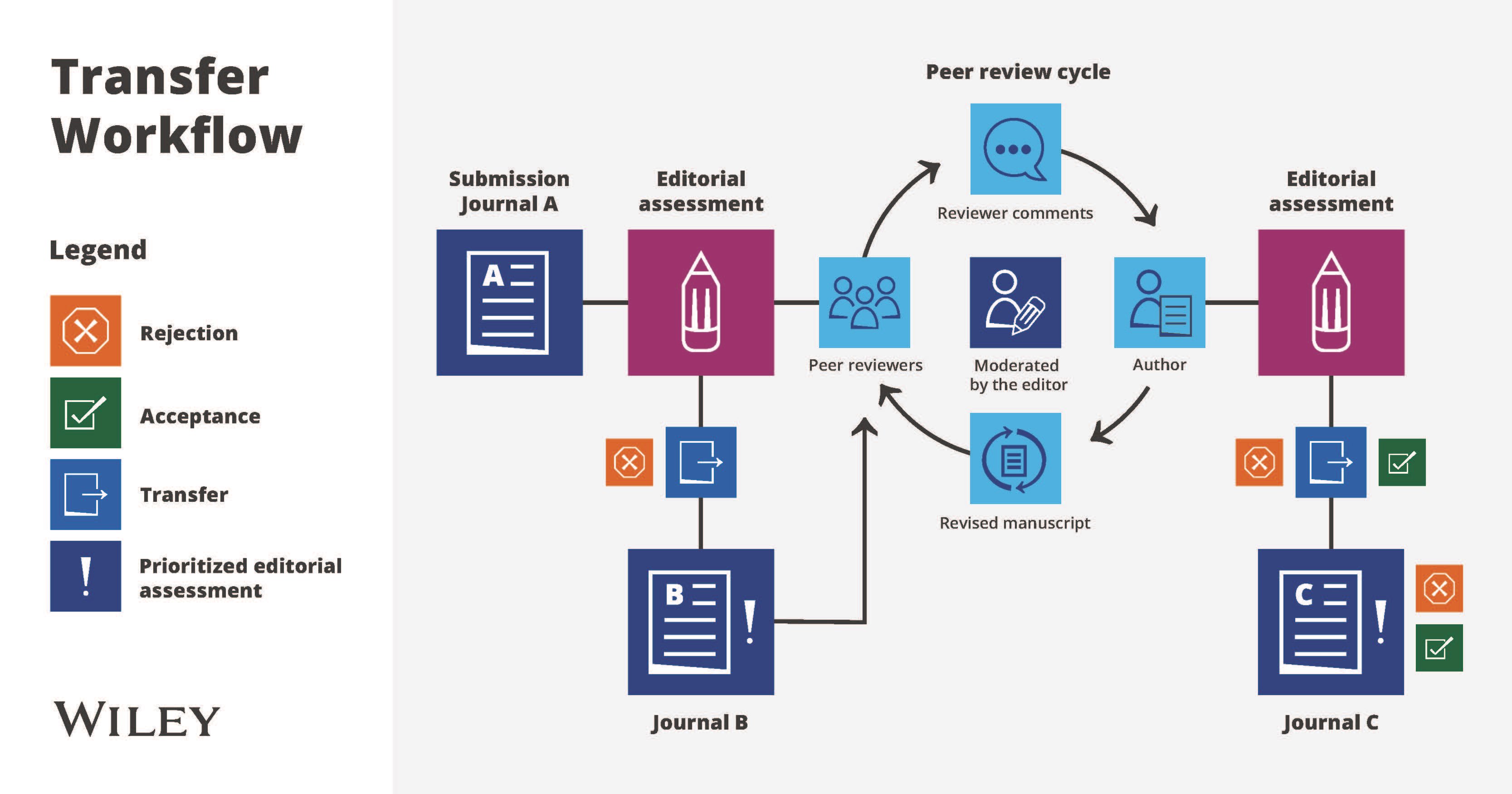 If your manuscript isn't accepted in the journal you submitted to, it may be referred to other Wiley journals within a similar subject area. If you choose to accept the transfer, your manuscript (along with all submitted files and any reviewer reports) will be sent to the receiving journal for evaluation. Although choosing to transfer your paper doesn't guarantee acceptance, we explore all possibilities to find the best home for your research.
Benefits of manuscript transfer include:
Quicker publication – there's no need to restart the submission process, or for reformatting, so your work will make an impact, faster
Minimizing redundant reviews – reviewer reports from the first journal are also transferred, lessening the load on over-stretched peer-reviewers
Editors are here to help – transferred manuscripts are up to three times more likely to be accepted in the recipient journal than regular submissions
Find further information in the Author Guidelines and Review Guidelines, located under each journal's 'Contribute' tab.
If you have comments or feedback on transfers or peer review, please don't hesitate to contact the editorial office. You will find contact details on each journal's 'Contact' page, which can be accessed via the 'About' menu bar on the journal homepage.
Frequently asked questions
If I accept a transfer offer for my manuscript, what are the benefits?
A simplified process, with fewer, guided steps to get your paper assessed by the suggested journal
No reformatting needed
Faster evaluation, with transferred papers handled with priority at the recipient journal
How does manuscript transfer work?
Your manuscript is deemed suitable for a sister journal.
The transfer process begins when you click on the 'accept' link in your decision letter.
All files submitted to the first journal (along with any reviewer reports) are passed on automatically (you'll have the opportunity to revise files before they're transferred; reviewer comments should be addressed, where this applies).
Your manuscript will be assessed by the recipient journal's editor.
Will my manuscript be discussed with editors of the recipient journal(s) before I receive an offer?
Yes, usually. If your manuscript received reviewer reports at the first journal, the editor there will consult with the editor of the recipient journal before offering a transfer. They'll assess your manuscript and any concerns raised by reviewers to ensure you experience a seamless transfer.
What is transferred?
Your manuscript, along with all files uploaded during submission, associated submission data, and any reviewer reports.
Which journals are included in the transfer network?
Any Wiley journal with an overlapping scope could be a transfer target. The most suitable journal(s) in our portfolio will be offered to find the best home for your paper.
What if I disagree with the editor's suggested journals?
Any decision to transfer is entirely yours. However, bear in mind that the editors know the journals well and will give you the best options to get your manuscript published quickly and in front of the right audience.
Will negative reports affect the editor's decision at the recipient journal?
If your manuscript has been peer-reviewed, it will be assessed by the recipient journal's editor before a transfer offer is made. Reviewer comments will be considered with respect to the requirements of the recipient journal. If a transfer is offered, the editor already believes that the paper could be revised for acceptance in the recipient journal. A letter should be provided when transferring, to address all reviewer comments.
If my manuscript received reports from reviewers, should I address those comments and revise my manuscript accordingly?
You should revise your submission files and include a point-by-point response letter addressing all reviewer comments, including a list of changes made and a rebuttal to any comments you disagree with. If the editor wants to adjust the revision requirements to suit the receiving journal's standards, this would typically be clarified before the transfer.
If my manuscript has been transferred before peer review, should I modify it?
Any changes that contribute to the manuscript's improvement are recommended and welcomed.
Will my manuscript be sent for further peer review at the recipient journal? Will new peer reviewers be chosen?
Usually, your manuscript will be subject to peer review once transferred, and revised manuscripts in need of further review will be sent back to the original reviewers. New reviewer feedback may be sought if needed. However, due to the previous reviewer reports, and the familiarity of the recipient editorial team with the transferred paper, the review process tends to be quicker at this stage. The need for further review is assessed on a case-by-case basis, depending on the extent of revisions required, the recipient journal's expectations, how well reviewers' concerns are addressed, and the topic.
What should I do if my transfer link has expired?
Contact the editorial office for a new transfer link, as long as the request is made in a reasonable time frame after the link expires.